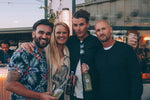 Hey,

Since we're growing fast and figuring out things as we go, we don't really have a jobs page so we wanted to let you know that we're growing and need some help.  We'll be expanding our B2B presence in France this summer and will be looking for some help on the ground.  From sales people to brand builders, if you're in the SW France, hit us up.

We're also growing our DTC footprint in Portugal and launching into Copenhagen and Hamburg, and are hiring some student brand ambassadors in those countries.  Whats a student brand ambassador?  Well, someone who is in these cities, who knows the right people, the people holding the right house parties, the right bars.  If you're looking for a career in the start up space it will help getting first hand experience with an exciting young company.
We'll pay a retainer, you'll have all the product you might need for yourself (I know, sounds wild right) and also to get in the hands of the people in your city.  Our only ask is that you get people talking, tagging us online and signing up to ūmmi friends and family commūnity.

If you'd like to hear more, reach out on IG Dm or via email jon@ummikombucha.com

Yes, we probably also need to hire someone to help us build out a jobs page, but for now this will have to do.
Enjoythebūzz

Laura, Chris, Tiago, Greg, Jon, Mareike