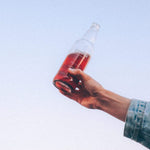 "HOW MUCH DID YOU PAY EVERYONE TO BE IN YOUR CAMPAIGN?"
The short answer is nothing. Maybe its just the world in which we live these days and the murkiness of influencers and instagram that this is everyones first reaction but this question is one that we've heard quite a few times. In fact, they all invested to be part of ūmmi because they believe in what we are doing and the potential of the category that we're launching in Europe.  It takes a while for people to process this as anytime you open Instagram you can find someone selling any number of protein powders, supplements or my personal dislike, covid testing kits "making it easy to travel". I mean was that worth the $500?
Mia Rose, Actress, Mom, ūmmi co-owner
So to follow on from the original question we're actually opening up our second round of investment this month. The first round was a hand picked group of people we believed to have the same outlook on life and thankfully they all had the same outlook. People like Mikey February, Nina Brooke, Arthur Longo, Lucas Puig, Mia Rose, Chris Wyles and many more. We also invited in a few people from the design hotel world, from creative agencies and those with outstanding corporate skillsets that we knew could help us long term.
Mikey February, Surfer, father to be, ūmmi co-owner
For this round, we're opening up to new investors who have a similar outlook on the desire to make better choices everyday through a company like ūmmi. So what will this round of funding be used for?
Nina Brooke, Artist, Surfer, ūmmi co-owner
Well, basically growth. Growth across Europe. We're just finishing up our production run for summer which will x10 our production from 2021, we're about to announce some new distribution partners to unlock target markets in Europe and hire some more feet on the ground and yes we have a new packaging option that we can't wait to share with you. We're confident that with the new valuation we'll have runway for the coming year to allow us to grow to the size by which we'll be able to offer same day distribution across key cities in europe with new flavours added for the summer. In terms of investors at this stage we're looking for those with experience in investing in start up brands or who have skillsets that we could tap into to help us grow across europe in a new market. If you would like more information and to get involved please email Laura@ummikombucha.com
| | |
| --- | --- |
|   |   |
| Ben Howard, Singer, songwriter, ūmmi co-owner. | David Djite, Snowboarder, ūmmi co-owner, Laax local. |