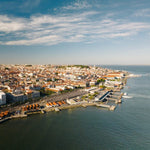 Following on from our previous post about where to eat and drink in Lisbon we wanted to give you an overview of where to visit whilst here, where to take kids, where to run, do yoga and way way more.
Tag us @ummi_kombucha when you're out and about.
PLACES TO VISIT

Torre De Belem 
Built to guard the river entrance into Lisbon's harbour, following orders from King Dom Manuel (1495-1521), during whose reign Portugal greatly expanded its empire, namely by reaching Brazil and finding a sea route to India.  Whilst you're in Belem go grab a couple Pastel De Nata too with your morning coffee.
Jardim Botanico
The botanical garden of Lisbon covers 10 whole acres and is located in the Principe Real district, secretly hidden from from the surrounding streets. It was laid out between 1858 and 1873 and has one of the largest collections of subtropical vegetation in Europe.
Panoramico de Monsanto
Designed by architect Chaves da Costa has recently gained new life as a viewpoint, after being abandoned since 2001 It can be legally and safely explored since September 2017.
LX Factory
Markets, exhibitions, shops, cafes, gigs and parties. There's a whole world to discover within the bounds of this cosmopolitan "factory" straight out of 1846 that completely changed the face of Alcântara since it reopened in 2008. It's a consumer city within the city. Everything in this industrial-site-come-trendy-hub is intentional – all spots for books, clothing, decoration, drinking or dancing are carefully curated, and will likely make you want to splurge (a little).
Ride the number 28 tram
If you go in the morning this could be fun to see lots of Lisbon's historic districts.  If you go rush hour it could be a nightmare so choose wisely.
BEST PLACES TO GO WITH KIDS
Aquarium
The Lisbon Oceanarium is located in the Parque das Nações, which was the exhibition grounds for the Expo '98. It is the largest indoor aquarium in Europe.  We've brought our kids here a few times and they always enjoy it.  Probably a trip 2 hour trip.  Buy tickets online to save the lines.
Pump track
This is a spectacular location for a pump track right next to the famous Vasco da Gama Bridge. Featuring a fun experience for kids on a shorter track 80 meters long, plus a second track, more challenging and almost 300 meters in length.  The kid's track has 14 roller jumps and 4 bermed corners.  The big track has 47 roller jumps and 12 bermed corners.  Its free, bring helmet and pads!  There is also a regular skatepark right next to it.
Lisbon Zoo
It was founded in 1884 and after moving a couple times its current location is at Quinta das Laranjeiras, in Sete Rios.  Our kids loved it and it is set in a really easily walkable location with elephants, monkeys, zebras, koalas totalling over 2000 animals in total with 300 species.
Science Museum
Right next to the Oceanarium in Parque das Nações, get the family ticket which you can't buy in advance, and it's for all day. It's on 2 floors and lots of things to do. There's a dedicated section to toddlers too. There are lots of interactive displays and things for the kids to play with. Don't miss the chance to draw your own fish and then see it on screen as well as engaging with a robot. Lots of fun for the whole family.       
Hello Park @ Monsanto Park
Great place for kids to go. If you're planning on an outdoor and activities birthday party for younger kids, it's the place to go. https://hellopark.pt/ 
BEST PLACE TO RUN
Tejo River Route :
Cais do Sodrè to Belem This run has it all: lovely riverside running with great views of the 25 Abril Bridge bridge, several important landmarks and museums, and the manicured Jardim de Belem. The full riverside route in the old part of Lisbon goes for nearly 5 miles one way between centrally located Cais do Sodré and the Belem Tower. Most of the route is along a dedicated riverside path, although there are a couple of sections along the road and around buildings — just follow the bike path signs. The most spectacular section on the water is west of the Bridge. The surface alternates between paved, limestone, and cobblestone. One great option is to run one way and take the light rail back — which only takes 15 minutes and has three stops along the way! It's nice at sunset as you head west toward Belem. Lit at night

River run east :
Marina, Paque das Naçōes, Parque das trejo This is a great waterside running spot in the eastern part of Lisbon. The 11 km out and back along the Tejo River starts at the Marina and runs through Parque das Nações (Park of Nations), site of Expo 98 and since transformed into the striking ultra modern side of traditional Lisbon. There's an Oceanarium, a cable car along the water, a large shopping center, a discovery museum, Lisbon's casino and a host of other attractions with a water theme. It's also a popular area for nightlife. The flat route has great views, with some spectacular path sections that nearly float on the water. A highlight is the run under the Vasco da Gama Bridge, which opened in 1998 and at 17 km is the longest bridge in Europe. Starting at the Pavilhão do Conhecimento (Pavillion of Knowledge), do a short loop around the marina path that juts out onto the water, before heading east on the path. Head east through the Parque das Nações , the Oceanarium, and the Jardim do Passeio dos Heróis, following the gondola line (!) before going under the bridge. Just after the bridge, enjoy the paths of the Parque das Trejo, where you can run on the water or along a more shaded, park-like section.  There are places to sit and enjoy the view, restaurants, cafes, and other recreational activities along most of the way. The last little section turns curls left along the river toward the A30. The whole route is 10.9 km. An out and back to the bridge is 7.5 km, including the marina loop. Monsanto Park Referred to as Parque Florestal de Monsanto, this is the largest green space in Lisbon. It has a large variety of terrain, from forest trails to pedestrian and cycling paths, and several active recreation areas. There are several surviving mills, dating back to the park's more agricultural era. 
BEST SURF SPOTS CLOSE BY

Carcavelos
If you want to surf at one of Lisbon's top-rated beaches, definitely head to Carcavelos. Carcavelos surf beach is famous for its waves' consistency and its excellent location. The waves are just 10 minutes away from Lisbon's city centre, and you can quickly get here by train for around 2€. Now fair warning, this beach is a hot spot, so the waters will be crowded with tourists and dominating surf locals.
Guincho
Another top beach in Lisbon is Guincho. This beach is located west of Lisbon and can be reached within 30 minutes or so by car. Summer is the perfect time to visit Guincho because of its smooth waters, making it ideal for beginner surfers. The waters do tend to get a bit choppy when it's not the summer, though, so Guincho might not be your best pick if you're a beginner and aren't going in the summertime. 
Sao Pedro
Sao Pedro has some great surf that is fit for both advanced and beginner surfers. The waves here are known to be chill and long if the waves are working right. The majority of the surf comes from southwestern swells, and the rising tide is usually when the waves are working best here.
If you need any surf stuff whilst here, check out Magic Quiver in Ericeira who have a curation of the best surf product around and also hold bi weekly events featuring plenty of ūmmi.
https://www.magicquiver.com.

BEST YOGA SPOTS
Baraza This spot is right in Santos with so many good brunch spots close by its perfect.  We grabbed their website info here for you : Join us for classes in our big, beautiful yoga studio in Santos, Lisbon. Our passionate group of trained teachers have the united intention of providing strong, feel good classes that enable both experienced yogis and beginners to find strength and depth in their practice. Our classes are inclusive and non-niche, we want you to flow, sweat and enjoy your practice. Baraza, the meeting place, is a hub of activity, hosting classes, workshops, and training, opening our doors to teachers from all over the world. *Classes are in English.
Rooftop Yoga Lisbon
I'm not sure about you but yoga outside can be amazing.  Check out this spot where you can take classes over looking Lisbons beautiful skyline.  Also they do combos of classes and brunch.  Why do I keep talking about Brunch?
BEST CO-WORK SPOTS 
Second Home
If you want a great spot to set up for the day second home is one of the best. Its right above Time Out market so plenty of food to grab for lunch.  
https://secondhome.io/location/lisboa/
  Yayem If you're here for longer we have a friend who loves this spot.  Great atmosphere, pool, glorious views, what more could you want
https://www.yayem.co
Well, there you have it.  That should give you everything you need for a few days in Lisbon.  Food, drink, yoga, running, surfing, exploring.  If you get through all that just ask Tiago at Milas for some more.  Just make sure he doesn't make you watch his Sunday league team Lisbon Casuals, the longest running team in Lisbon (I think he means oldest group of players).  Enjoy Lisbon, its magical. team ūmmi.