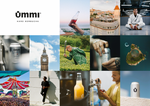 These early days of January can feel strange as we're finding our way back into our usual routine. It can also lead to a wonderful opportunity to reflect on the year that passed and leave us wondering about the year ahead. For us at ūmmi, it represents a moment to step away from the daily grind and see the progress that a small brand like ours can make in a year.
After our soft launch in 2021, moving into 2022, we ramped up our production to levels we'd been dreaming of last year, with 30,000 liters of hard kombucha brewed at our wonderful facility, Vadia, in the forest close to Porto. The VADIA team inspires us, the best partners we could have wished for to perfect our process. Their passion for fermentation has crowned them experts in producing a range of drinks, from experimental beers to craft sodas, to kefirs, to hard kombucha. We have rarely left that brewery after a week of filling cans, bottles, and kegs without deep learning from long tasting sessions, ranging from fermented spice jars for their Christmas beers to cherry ciders to kefir shots. The yearly hosted fermentation festival "Wild at Heart" in Porto showcases their homage and reverence to fermentation techniques. It builds the community of Portugal's brewers, including a range of excellent (non-alc) local kombucha brands that we absolutely love. This year's challenge for the VADIA team and us was to fill the majority of those 30.000 liters into our beautifully printed cans without a canning line in-house. We worked with mobile canning for most of the year, and as of last month, we proudly announce that we can fill entirely in-house as one of the first craft breweries in Portugal with this option.
It's funny; if you are so close to something on the daily grind, you may miss the beauty or relevance of it happening. The addition of cans has been such a fundamental shift to the business it's easy to forget that we only added them to our range this year in March. We've made it much easier for people to grab a six-pack for a beach day or a party with friends. Shipping has also become much easier across the country, specifically across borders. We had already played with the idea of cans in 2021, but the only option was a shrink-wrapped can which isn't recyclable and not something we could get behind. We're happy we waited for our slick, printed cans, which are fully recyclable. It means we're fully living out the values of that 1% for the planet logo on our cans and bottles.
The cans also helped us accelerate growth. We saw exponential growth in cans, bottles, and kegs sold from the amazing new accounts we've added every month. It's been a wild ride, with the biggest highlight being how much our community has grown thanks to our partner events, pop-ups, and festivals. Who can forget selling full pallets of ūmmi in a couple of days at the Boom Festival?
We also took a production crew to Portugal's Azores Islands, home of Europe's oldest and only remaining tea farm, where we source Organic Green Tea for the base of our drink. We wanted our first content piece, 'Farm to Can', to showcase the process, the climate, and the two sisters who own and operate the Gorreana Tea Farm, the 5th generation of women to run the farm. We're proud to work with a Portuguese Tea Farm with two kick-ass ladies running the show. Watch the film here.
This year has also meant bringing new members into the ūmmi family. One of those is Pierre D'Andrimont, the EPL group's founder, who is known as one of the best employers in gastronomy in Lisbon. He's a person who deeply cares, appreciates the hard work that comes with serving the best food and drink in Lisbon, and has people so dedicated on his team that they'll tattoo the bar's name on their forearms. These are the people we love to have within the business because their passion, integrity, and values align perfectly with ours.
We also welcomed Roger Gracie to the co-owner family. Roger is among jiu-jitsu's most decorated and accomplished athletes and is widely considered one of the greatest competitors in jiu-jitsu history. When he first heard about what we're building with ūmmi, he was excited about the opportunity to be a part of it. "As an athlete, I love jiu-jitsu because of the physical and mental benefits as well as the longevity. My choices in life have to reflect that. It's great to have a drink without any additives so you can enjoy yourself and still wake up ready to go." Roger was recently on the Lex Friedman podcast, which you can watch here.
Along with Pierre and Roger, we're also happy to welcome Joe Tan, one of the founders of Incase, to the team. Having moved to Portugal recently, he brings a wealth of knowledge and experience to help us build a stronger foundation. We're also still open for private investors. If you would like more information, please get in touch with us at hello@ummikombucha.com.
This year we also began holding numerous happy hours with some of our beloved bars and restaurants and a range of partner events with talented local brands, the ummi friends, and family. We held events with Da Noi restaurant during the Santo Antonio Festival, Magic Quiver during the WSL event in Ericeira, La Barraque at You and the Sea, at Neighborhood on the hottest weekend of the Summer, and partner events for openings and activations, including working with MODA Lisboa, Somewhere A Process, the Casa Noble Farmers market with SLOW, the opening of The Feeting Room in Porto, Arches pop-ups and Fairly Normal activations and store openings throughout the year, +351 summer events, art show openings with Eritage in Lisbon, the Aethos hotel opening, Selva release party in Porto, ROVE surf shop activations, the opening of SABI Lisboa, the Estrela Food Feast Festival, the opening of the Fantastic Frank showroom in Lisbon, the Further event with Design hotels in Marvila, Sea Salt collective Halloween market, STAB season finale watch party, STUDIORISE birthday week, our first Lisbon Living Room session and latest, the Ementa Skate Movie premiere held last week.
We also took our first steps in the tradeshow space at the Bar Convent Berlin, an opportunity to meet new partners and like-minded brands as we scale for growth. We are pleased to announce that we have a distributor in place for the UK for 2023, Cask distribution, who will lead the charge in building our network over there. We're also available for home delivery anywhere in the UK through Amazon. We're up and running in France with our friends at Two Palms to get the SW market moving. Along with BeMakers in Denmark, who are helping us unlock B2C solutions across Europe while we gradually open distribution networks across Europe.
For 2023 we're so excited to continue this journey and can't wait to meet up for a drink together.
Enjoy the Būzz